Release of the first annual Predictions Issue from HeyDoug.com was delayed by a court action filed on behalf of Almanac Publishing Company, publishers of "The Farmers' Almanac." The action called for the deletion of any and all weather related material, claiming an historic exclusivity to meteorological prognosticating. Barnes, Bay and Silverstein, legal counsels to the Almanac, threatened to "tie up this predictions issue until the cows come home," which they claim will occur on July 12.
Under threat of such protracted litigation, and with little to gain, staff attorneys at parent HeyDougWorldwide recommended removal of the only weather related prediction, that of an unseasonable chill in San Francisco that strangely coincides with a planned visit by President George Bush.
With Almanac Publishing the apparent victor on this year's weather front, top officials at HeyDoug are openly furious and rumored to be aggressively planning the company's newest priority project, "The 2004 HeyDoug Almanac."





In the wake of government criticism lowered at the fast food industry, officials at giant McDonald's Corporation have announced a number of steps designed to restore public confidence in the legendary fare available under the famed golden arches.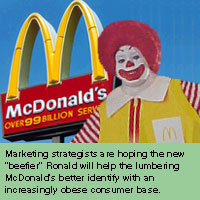 Spokesman for the burger behemoth, Bennett Jarvis, predictably lauded the company's "happy and satisfying menu," but did acknowledge certain "nutritional issues." He then outlined several adjustments soon to be implemented claiming they will clearly demonstrate "a corporate concern" for the health and well being of McDonald's customers.
Among the healthful adjustments outlined by Jarvis were: smaller servings of their biologically hazardous french fries; the use of even cheaper beef with a small percentage of the increase in profits going to cardiovascular research; and finally, addressing the self esteem issue often associated with obesity, patrons ordering Big Macs will be required to view a brief motivational video entitled, "Yeah I'm Big and If You Don't Like It, Screw You," featuring Sally Struthers and William Shatner.





Environmental groups and manufacturers of disposable packaging have announced an unlikely coalition to promote widespread littering, particularly along heavily travelled commute corridors.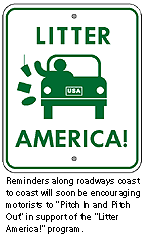 "Americans love to throw trash out of car windows while driving," explains Sierra Club president, Jennifer Ferenstein, "and we're saying, 'Hey, now it's OK to do it.' We see it as single stream recycling at its most convenient."
According to spokesman for the participating manufacturers, Edward Niebaum of Pacific Containers Corporation, "Roadside availability of raw materials will dramatically reduce our dependence on foreign sources while allowing Americans the freedom to dispose of bottles, cans, bags, whatever, anywhere they choose."
Following a series of successful pilot projects throughout the U.S., Wilson Lively, creator of the "Litter, America!" concept, was commended by Interior Secretary Gale Norton during a brief ceremony in Washington. Lively generously reminded the small but influential gathering, "The real credit here goes to the citizens of this great nation without whose insatiably wasteful nature and uncanny willingness to defile their own environment, none of this would be possible."




Police in the Reno area are struggling to understand the motive behind a series of drive-by shootings that regularly send patrons of a local Target Store diving for cover. Random in all respects, Sgt. Guthrie Moles admits his department is stymied by this one.
"We've had shootings at all hours of the day and night, from large and small caliber weapons, from pick up trucks and cars. Fortunately no one has been injured and all the damage appears to be concentrated on the large sign out front."
Reno Police Chief, Jerry Hoover has asked the public for assistance and William (Billy) Nesbit, local manager of the discount giant, has authorized a reward of up to 25% additional off any sale item over $100.
Meanwhile investigators continue to search the area around the bullet riddled sign as the people of Reno collectively wrestle with the lingering question, "With all the K-Marts in Nevada, why in God's name would anybody shoot at a Target?"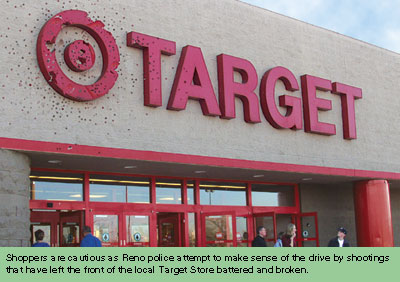 Declassified documents will show the US Government has been in communication with an advanced alien race since 1953 and has repeatedly turned down solar technology that would eliminate all need for fossil fuel. This will confirm the existence of intelligence elsewhere in the universe, and a desperate lack of it here.

America's most famous trade secret will be divulged when a disgruntled insider at their Atlanta headquarters reveals the secret flavor ingredient in Coca Cola is Pepsi Cola.

The economy will suffer a mid-year slump due to an unstable Mid-East, distrust of corporate America, and the fact that anyone who's not broke now will be by then.

Plans to clone former president Richard Nixon will be abruptly abandoned when someone asks, "Why?"




Popular Mechanics' unlikely 2002 issue revealing, "The True Face of Jesus," as constructed by forensic historians, will pale in the shadow of their plans in 2003 to reveal "The True Face of Michael Jackson."

The fitness industry will explode when a government study confirms that aerobic exercise protects the heart, weight training protects the bones and killer abs get chicks.

Detroit will suffer a disappointing year with sales at near record lows, due to the swelling tide of foreign imports, the rising cost of US labor and the tendency of American cars to fall apart.

Fans will be dismayed to learn the Beatles lip synced their way to fame and fortune. Disclosures will prove they actually sang none of their legendary repertoire and in fact recorded only one song together, "Muskrat Love," which was lip synced by The Captain and Tennile.




The news media will find itself under scrutiny after irresponsibly reporting the home phone numbers of several owners of telemarketing firms, this resulting in their dinners being constantly interrupted by unwanted phone calls.

Evolutionists and Creationists alike will be shocked by the discovery that man did not evolve from apes.




Apes evolved from man.